Since Christmas Day is fast-approaching, I decided to write about life-changing gift ideas that you might want to consider on what to give to your family and friends this Christmas. Though this post might be too late if you already have bought gift items for your loved ones, I am sure it will never be too late to consider getting one or more of these items as a gift to yourself.
Why life-changing? Well, every year, we decide to write a New Year's Resolution hoping to see changes to happen in our lives. At some point, we were able to carry those changes but most of the time no. So I thought that, maybe if we give these items that I will be mentioning below as gifts for others and/or ourselves will somehow create an urge inside that might prompt us to move forward to a positive change. (Really?? – Somehow I can hear you saying that.)
Without further ado, here is the list of life-changing gift ideas in no particular order except for number one as the ultimate one!
1 – The Holy Bible
I think there is no other book on Earth can be life-changing as the Holy Bible. This I believe is the most timeless book in the entire world as it remains true yesterday, today and forever. Well, you might say this is not a unique gift since almost everyone you know might have one but believe me, His Word is new every morning and most of your Bible reading friends might want to a have a new one every year. As you can see, they might have made their Bible into coloring books with all the highlighters and notes they have written on it. This one is my favorite. Truly, life-changing!
2 – Certified Positive 2014 Planner
Recently, as I was browsing through my Facebook feeds, I saw one of my favorite local authors sharing a link about this planner. So immediately, I checked it out and found it to be note-worthy to be included in this list. Why? Aside from the fact that it has a "Certified Positive" as its name, the contents are really awesome! It contains daily dose of positivity which includes inspirational verses! And guess what?! It already has a Bible reading plan that will guide you daily. Talk about walking with His Word incorporated to your planner, isn't it great?!
Get this planner HERE. 
3 – Productive Pinoy
This book is my very first self-help book from a local author, Mr. Yeng Remulla. Personally, this book really made a life-changing impact in me as I have become aware on the importance of being productive and valuing time. Well, I knew about it before but after reading this book, I became more conscious. I felt more mature in valuing time. Read about my review on this book HERE.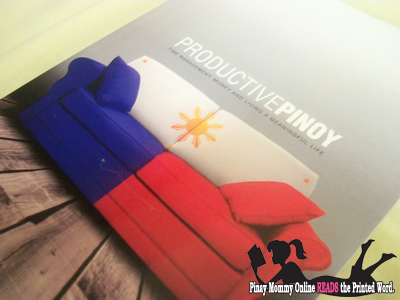 4 – Everything is Possible 2014 Planner
All of us have a dream to achieve in life, not as many as other people have but even how small, we want to fulfill something and make our life here on Earth worth living. So, I believe this planner is a life-changing gift item as well; it contains a lot of specialty pages that includes inspirations that will drive us to a more focused planning , how to achieve big goals with micro actions, motivational pages and many more. It encourages the user to always think that everything is really possible.
Get this planner

HERE

. 
5 – Start Something
This book is ideal for family and friends that have been telling you about their dreams of having their own businesses. You hear them talk about all the time but somehow you don't see them doing things to achieve it. This book might be the one that will cause them to change and act on their dreams. They might have apprehensions and don't know where to start. This book is definitely the best gift you can give them!! As for me, it caused me to take my online business seriously and bring it to a higher level (to be announced on 2014).
Get a copy

HERE

. 
Now, you might wonder why my life-changing list of gift items for this holiday season contains planners and self-help books. Well, the answer is really simple – change begins inside. These gift items will not guarantee 100% positive change in your lives. These are just tools to help us think about it and decide how we can act on it. If we want to truly change, this can only happen if we decide to change and act on that decision. I firmly believe that we can't really change ourselves by our own power but we also need God's help. Aside from that, soliciting help from friends and family can be a great factor as well. Our will to change coupled with God's strength and help from those who cared, we can really initiate a positive change in our lives.
~ THIS IS NOT A SPONSORED POST. ~