1,825 total views, 2 views today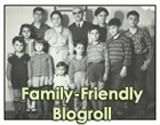 It's a brand new year and I wanted to start my blogging into a much newer dimension. And with that, I have decided to start again with my blogroll. It has come to my knowledge that most bloggers listed on my blogroll have not linked back to me 😥 . Since I have more than 300 blogs on my roll, it has become a tedious task for me, checking and deleting (most of the time deleting 😡 ).
Anyway, if you still want to be in my blogroll, please comment with the following:
Type of Blogger: Mommy Blogger / Personal Blogger
Blog's Name: Pinay Mommy Online
Blog's URL: https://www.pinaymommyonline.com
I want my blogging experience to be more personal with real online relationships. Those who will be in my blogroll will be visited regularly and will receive comments from me. This would not be on a daily basis but as long as I can manage to do so. But before leaving a comment here, please check if I am listed at your blogroll too. 🙂
And to make my blogroll more relevant to my blog, I am only accepting exlinks from mommy and personal bloggers. Since mommy bloggers are self explanatory, what do I mean by personal bloggers? It simply means bloggers who are not moms; like daddies, single men and women who are maintaining a personal blog. I will not be linking with blogs whose theme is NOT about personal blogging such are those filled with dozens of affiliate links, gámbling, adult, download links, warez and illegal stuff. Those who were linked to me because of my contest, you can freely leave a comment here too if your blog is about contests.
I am really sorry for such inconvenience but I have to do this. It would be more unpleasing if I just delete your link and not explain why. So better overhaul my blogroll. I hope you understand.
Thank you very much! 😳
– LINK ME OR GRAB ANY OF MY BADGES –
Pinay Mommy Online

<a href="https://www.pinaymommyonline.com/">Pinay Mommy Online</a>


<a href="https://www.pinaymommyonline.com/"><img src="http://i257.photobucket.com/albums/hh229/pinay-mommy/pmc-new.png"></a>


<a href="https://www.pinaymommyonline.com/"><img src="http://i514.photobucket.com/albums/t344/pmc-admin/misc/pinaymommy88x31.gif"></a>



<a href="https://www.pinaymommyonline.com/"><img src="http://i257.photobucket.com/albums/hh229/pinay-mommy/pmo-chicklet.png"></a>