975 total views, 4 views today
2014 is indeed a good year for me. The year started with so much blessing. Just a few weeks ago, I received one of the awesome gifts to jumpstart a positive year – The Certified Positive Planner 2014. And just recently, I received a book to review – my very first this 2014. And guess what?! The book or books for that matter is from my favorite genre – SELF-HELP!! So awesome, right?!!
It took me time before I was able to flip the pages of the book. Got very busy but thank God, I found time to read it over the weekend. I was able to read the book in just one sitting while doing some work. Since my task entails downloading files, so while waiting, I read the book eagerly.
The book is actually a compilation of two books. They are placed back to back. This is not new to me since I have books like this before. So, I didn't get so messed up. LOL!!
Let us now talk about the book(s)… the books are entitled "I Wish They Taught Money in High School So I'm Not Dependent on My Paycheck" written by Clarissa Seriña – de la Paz and "I Wish They Taught Money in High School So I Can Start My Own Business Right Away" written by Sharon W. Que. For short, the title of the entire book is "I Wish They Taught Money in High School."
Personally, after seeing the title right away, I know it contained something that would interest me. Yup, you guessed it right – MONEY!!! OK, you might think I am too materialistic but I am not. I am just practical. Who would not want to have money and lots of it?? I am a solo mom with three kids, I want to have money and live effortless with no problems in raising my children. Right?? Yes of course, I am indeed right! Hahaha…
Kidding aside, while eagerly reading and flipping the pages, I can say that the book is indeed a good one. It contained experiences by the authors on how they encountered money, how they earned money and how they sustained money and living the dreams they want without working so hard for the money (See, I just love money!). And of course, besides the money talk, I learned to admire the honesty of these authors. Clarissa Seriña – de la Paz and Sharon W. Que are newbie writers (this is their first book written and published) but by their honesty and experiences, I think they immediately built their credibility.
The first book I read was "I Wish They Taught Money in High School So I'm Not Dependent on My Paycheck" written by Clarissa Seriña – de la Paz. It was nicely written though I have to get my dictionary about three times since I encountered three new words while reading it. The content was fascinating because I learned a lot. Her experiences gave me ideas particularly in the realm of savings and how to reach a dream you want. She made me realize that there is an established methodology on how to save and how to achieve the dreams you want to happen. Yes, it is common that we hear "INCOME – SAVINGS = EXPENSES" but for me, she gave me a new meaning of that phrase and I can't wait to practice it in my life!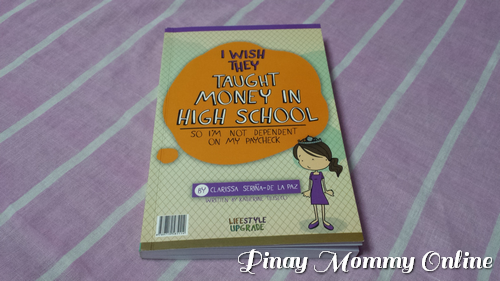 The second book, "I Wish They Taught Money in High School So I Can Start My Own Business Right Away" written by Sharon W. Que was an eye-opener for me. I am not really into realty but learning from the things she shared; she made me want to consider checking out the real estate business. She also shared and explained a fascinating saving principle from a known financial author in layman's terms. She made things easier for me to digest.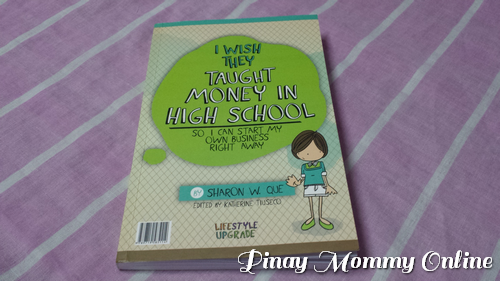 If you like pictures in your book, this one is indeed enjoyable to read. Illustrations in this book were done by GooglyGooeys.com.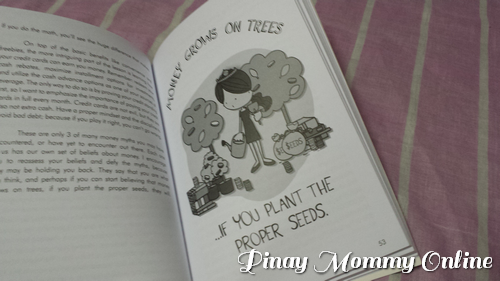 In conclusion, the book "I Wish They Taught Money in High School" is a great book on personal finance. The money language that I dreaded to hear and read online (and even in books) was easier to understand as they try to explain it in simple terms. I also considered their experiences and the resources they quoted as gold nuggets as it contained valuable information that can help you decide your own financial decisions. Another thing I considered admirable is that the authors didn't hold back in sharing their resources.
As for me, I have my own plans here and there but after reading this book, I decided to try new things like the gratitude journal and also blogging about my journey to personal finance. I had a blog before but I was not able to maintain it. So this time, I will try my best to share my journey with people who share the same interests and vision as mine in making our finances go better!
If you want to buy a copy of this book, you can do so by visiting their online shop. You can also visit their fan page at https://www.facebook.com/lifestyleupgrade101 get more information on financial literacy, money management, business, investments and more.
Honestly, after reading the book, I felt really happy. Aside from learning new things to apply in my life in the world of personal finance, I find it remarkable that more and more Filipino writers are slowly conquering the world of self-help books especially in finances. I see it in a very patriotic way. If you want to uplift the financial situation of a country, you need to uplift the people first. And this is what I see. More people who discovered the value of money and how to make it big are sharing their experiences to others. They want change to happen and I am so glad they are sharing what they know to the entire country through the books they have written.