After a few days, I have finally finished reading Productive Pinoy by Yeng Remulla. And all I can say is that it is indeed worth my time. I have been an avid reader of self-help books and most of them were written my foreign authors. This one has different impact on me because it was written having my own culture and feelings in mind.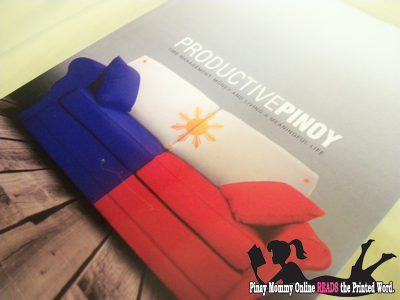 Though the book tackled about time management, money and living a meaningful life, Productive Pinoy has conveyed many valuable lessons, reminders and awakenings that are beyond these issues. And let me share some of them…
As a parent, I love how Productive Pinoy tackled the issue on how some parents (people) tell their children (us) that they are useless (walang kweta). Most children (us) grew with the subconscious mindset that they are indeed useless thus hindering them from being achievers. Biblically speaking, this is true. The Bible said that the tongue has the power of life and death. So if we continue saying that our children are useless, indeed when they grow up useless because of their subconscious mindset that we have created. Thus, the book Productive Pinoy, reminded me that as a parent I must make a "conscious" effort to tell my children that they are productive, resourceful, talented and many more.
As a blogger/online entrepreneur, the book Productive Pinoy reminded me to work smart and productive, not work hard and sleep late (in my case, never sleeping, LOL). It made me aware that being productive and successful does not entail long working hours (sacrificing time with my children even if I am a work from home mom) but of working smart, planned and organized. So it made me realized that even how chaotic life for me right now, I can still plan and get everything organized. Age doesn't limit what I can do and achieve… just plan to make it right!
The book, Productive Pinoy, has touched me more than what I can write right now. It has awakened my senses and realizations in life, as a mom, as a wife, as a blogger/online entrepreneur and as a person not only for others but for my own and my entire well-being. Productive Pinoy is indeed a great read that I can recommend to anyone and everyone!
BUY PRODUCTIVE PINOY TODAY!!
Productive Pinoy by Yeng Remulla is now available nationwide with an SRP of Php 395.00 from the following:
National Bookstores
Powerbooks
Fully Booked
Central Books
New Day Publishing
Emerald Headway Distributors
Order Online
Yeng Remulla (Sounds familiar? Well, he is the keyboardist of True Faith, one of my favorite Pinoy Bands when I was a bit younger) is not only an awesome young man that is full of wisdom beyond his years.
Like their Facebook Page at https://www.facebook.com/iamaproductivepinoy for more info.