1,485 total views, 4 views today
There are many ways to backup your WordPress Blogs but so far I find this way as the safest way to get your files intact and the quickest way to restore them.
At the end of this tutorial, you will have four files essential in restoring your blog/s to your new server or for backup purposes. These four files are your SQL database in sql.gz format and WP plugins folder, WP themes folder and WP uploads folder all in zip formats.
To get these files, please carefully follow the instructions below:
1. Login to your CPANEL account.
2. Look for Databases and under it, click on phpMyAdmin.
3. You will be redirected at phpMyAdmin. Be careful what you do here. One mistake might delete all your blog. So please be careful. Once your here, click on the name of your blog's database. It is found on the left side.
4. After clicking, you will be shown the tables of your blog's database. Just click Export above.
5. You will be then redirected to the export page. Go down and tick "gzipped" then click "Go."  After this your database's table will be downloaded.
6. After downloading your first file, then go back to your CPANEL dashboard. Look for Files and under it click "File Manager."
7. A popup window will appear, tick on Web Root and Show Hidden Files and then click Go.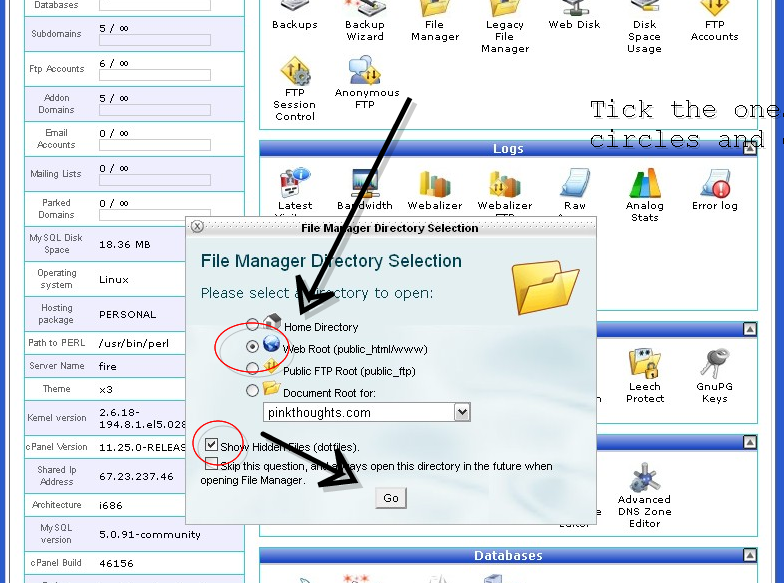 8. Once you a redirected to the File Manager of your CPANEL account. Look for the folder "wp-content" and click it.
9. Once inside, tick plugins and then click compress. A zip file of the folder will appear. Repeat the process for the themes and uploads folder.
10. After all the folders have been zipped, tick on the zip file and download the file to your computer.
Now, you all have the four essential files of your blog's backup. If you noticed this is manual and I like it that way because so far, based on my experience, some auto backup and plugins creates corrupted backup files. So I preferred to be safe than sorry.
So, just in case your blog will go down and your data went kaput, then you will not panic because you will always have a blog backup that you can always upload anytime! Hope this small tutorial helps!