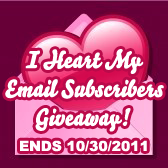 Are you one of my email subscribers? If so, you are entitled to join my "I Heart My Email Subscribers Giveaway!" If you are not yet an email subscriber, all you need to do is to SUBSCRIBE and CONFIRM to my blogs using your email. Two (2) lucky emails will be chosen to win of $10 each and another two (2) for $5 each!
So, what are you waiting? Join now!!
REMINDERS:
1. Once you join this giveaway, you agree that you will stay subscribed to my blogs for the remainder of your emails existence. If you choose to unsubscribe and then later subscribe and join my future giveaways, you will be disqualified.
2. Old email subscribers are qualified to join this giveaway provided that they are still active subscribers (confirmed) and fill-ups the rafflecopter widget.
3. Enter the email you used in the "Extra Info" of the rafflecopter widget.
4. A participant can join more than once if he/she uses different emails to subscribe but can only win once.
5. This giveaway starts today and will end on October 30, 2011.
6. This giveaway is open worldwide to all email subscribers with valid Paypal email addresses.
ALL EMAIL SUBSCRIBERS WILL BE QUALIFIED TO JOIN MY MONTHLY GIVEAWAY EXCLUSIVE FOR EMAIL SUBSCRIBERS ONLY. SO SUBSCRIBE NOW AND ALWAYS BE THE FIRST TO KNOW THE LATEST. 🙂