1,231 total views, 2 views today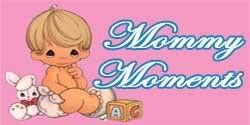 Theme of the Week: Treasured Pictures
I am so glad that I am back online! At least, I will not be able to miss another Mommy Moments opportunity.
So, let's get started! This week's theme is Treasured Pictures. Well, I considered all pictures treasured since each one captures a moment in history. But for this week's theme, I am featuring two of my many treasured pictures.
Both of these pictures were taken last year 2008 when I started my career as a stay at home mom. I considered them treasured since it was the fulfillment of my dream after eight years of wanting to become a stay at home mom instead of a working mom!
The decision to resign was risky but I couldn't ask for more! I am happy being with my kids.