1,016 total views, 2 views today
Call me corny or what but I am really patriotic and I like boxing. 😀 So, since I am a pinay mommy blogger, I am promoting our people's champ Manny Pacquiao and his fight this coming Saturday night (Sunday morning here in the Philippines) against another champion Oscar dela Hoya.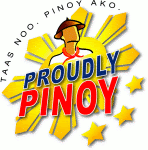 This is a true battle of the two best and legendary boxers in history. So please don't miss it and of course offer a prayer to our own fighter Manny Pacquiao!
I would like to thank Nike Philippines for promoting our country's world class athlete by making these cool images, friendster and myspace layouts and more to promote Manny's fight! Grab hold of this images by downloading it HERE.