914 total views, 2 views today
As a way of saying thank you to my top 10 commentators, here is a little thank you card I made for you all. Please feel free to grab this simple token of mine. It's really from the bottom of my heart. Thank you again and God bless!!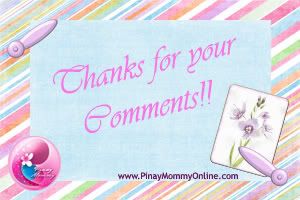 By the way, for my other readers, please take time to visit the blogs of my top 10! Thanks!!
1. janet – Expressions From The Heart
2. Mummy Sheng – Sheng's Simple Thoughts
3. Lalaine – Lalaine's World
4. Pinay WAHM – Pinay WAHM
5. A Simple Life – A Simple Life
6. mon – FatherlYours.com
7. Noemi "Mica" Watson – Life and Adventures
8. Liza – Moms…Check Nyo
9. Nancy – Peaceful Mind
10. Mabelle – MaBelle's HopeFaithnLove