1,270 total views, 4 views today
I had a wonderful weekend. I went to Iligan City to attend the Mindanao Blogging Summit 2011. I just arrived yesterday and after a few hours of rest, I immediately checked all the entries of my I Heart My Email Subscribers Giveaway so that I could announce the winners as soon as I can. As I browsed, I was so happy because many joined my giveaway and also sad at the same time because some of the entries are not valid – some email subscriptions were unconfirmed. Sadness!!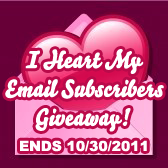 Anyway, after a few hours of checking, I have finally arrived to the most awaited part – the announcement of winners. And the winners are…
Congratulations!!! The first two names will get $10 Paypal Funds each while the next two will get $5 each. Please send me your name and Paypal Email addresses so that I could immediately send you all your winnings! Congratulations!!
For those who didn't won, don't fret!! I have a lot of giveaways lined-up for you. So just stay tuned and stay subscribed!!!
To all who joined and supported my giveaway, thank you so much!!!!